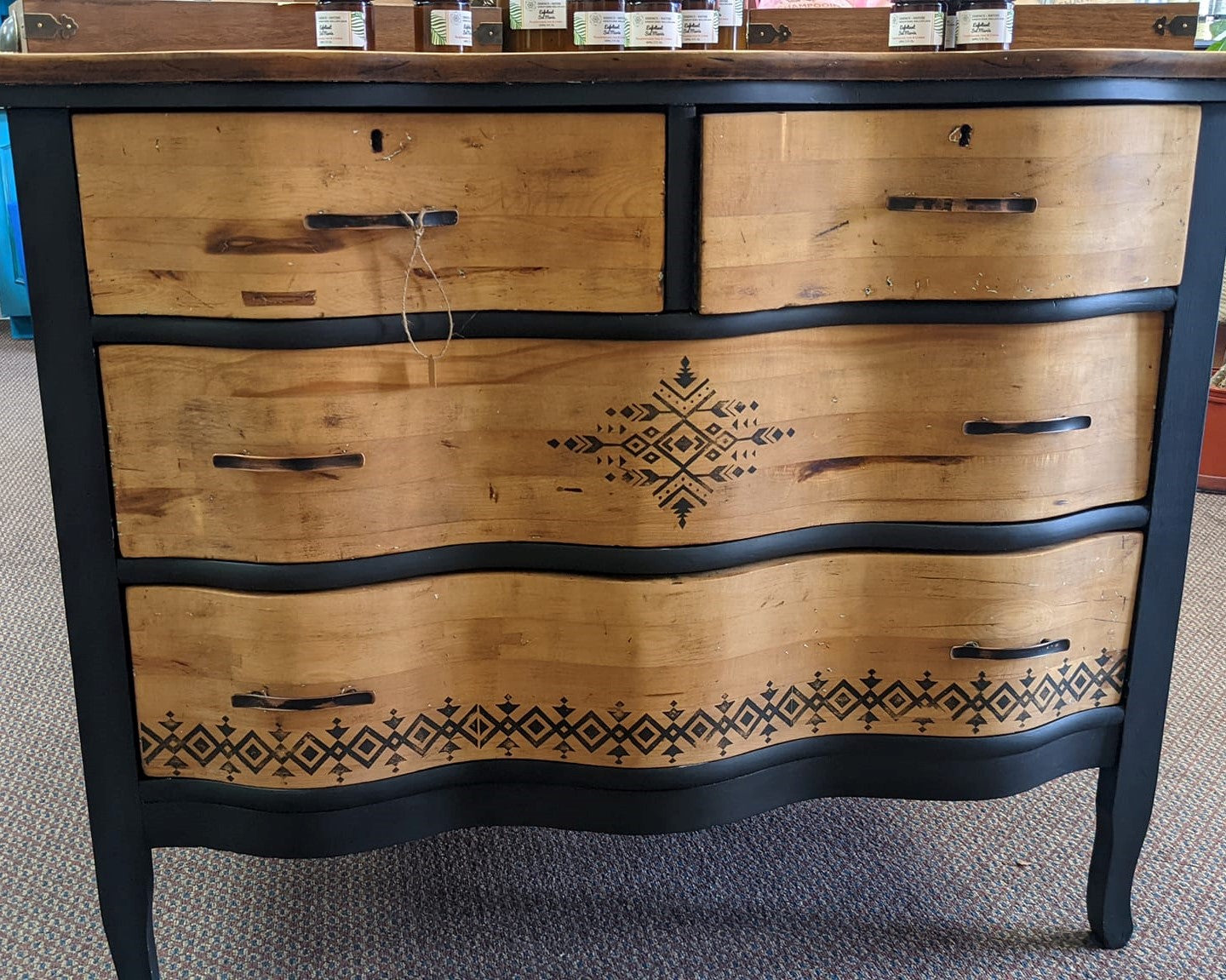 This magnificent piece of furniture already had pretty shapes and experience.

After a very good cleaning with White Lightning and rinsing well with
water I gave it 2 coats of black (Caviar) leaving the front of the
drawers and natural top.
I then used the same paint to apply my Stamp
(Tribal Prints by Re-Design with Prima) on the front of the drawers. then I have
decided to add a little surprise on the side of the drawers by applying a
superb fabric decoupage paper. To do this I started with a layer of
varnish (Dixie Belle Clear Coat Satin), I spread the paper and covered with a
another coat of varnish. Once the varnish had dried, I cut off the excess on
the sides with sandpaper, which creates a nice straight cut.
Everything has been sealed with the magnificent Hemp seed oil
(Howdy-do-Hemp Seed oil) on paint and bare wood.
The surface only drinks what it can so we let the oil of
hemp rest for about 12hrs. When we come back to it we can see
places that oil remains, it means that in these places the wood has drunk
enough and the surplus remained on the surface. We just have to wipe off the excess
and voila.
As on all the furniture that I redo, I apply Big Mama's
Butta (Orange Grove) inside drawers, on rails and all wood
interior. This revives the wood. This oil is made from oil of
hemp seeds, coconut oil, beeswax and carnauba wax
and brings the wood back to life and smells beautiful.
*All products used are from Dixie Belle and Re-design with Prima
and are available on the site or in store.